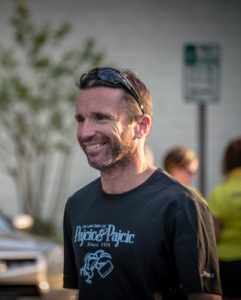 VISIT MY BLOG
Paul McRae, LMHC, is an experienced mental health counselor licensed in the state of Florida. His work is devoted to treating a wide range of issues that can impact the well-being of individuals, children, families, and couples.

Paul's previous experience consists of working with teens at the residential treatment facility Three Springs in Union County and working with children, adolescents, and families in a full-service school program for the Child Guidance Center in Jacksonville, Florida where he received the Achievement Award three years in a row.
Native to New Zealand, Paul worked in the educational system as a teacher, school counselor, and tutor prior to relocating to the United States and obtaining his master's degree in Mental Health Counseling from the University of North Florida.

Paul possesses an easy-going manner, compassionate nature, and a sincere desire to help his patients access and build upon their strengths to work toward the goal of a healthier, more fulfilling life.

Paul's vast experience treating individuals of all ages in various settings gives him added insight into treating a diverse array of clients and concerns. Paul knows that everyone experiences moments in life that can feel overwhelming.
Whether your challenges in life pertain to marriage, infidelity, discipline, sibling rivalry, grief, and loss, or the impact depression and anxiety can have on an individual or family, Paul would consider it a privilege to help you navigate difficult and confusing times in life.

Therapy with Paul is a partnership. He will assist you with identifying and understanding issues, so you can determine practical strategies to work toward the objective of hearing and honoring your inner voice. Once you have access to your inner voice and true self, you can confidently implement your decisions and evaluate the results.
The following are areas where I can be of assistance:
Depression Anxiety

Sexual Abuse and Aggression

Physical Abuse

Greif Trauma

Couples Challenges

Parent/Child Relationships

Parenting Children and Adolescents with Behavioral Issues

Stress

Anger Management

School/Work Challenges

Effective Communication

Crisis Intervention and Assessment
Behavioral Modification

Self-Esteem

Personality/Mood Disorders

PTSD

Schizophrenia

Marital Discord

Domestic Violence

ADD/ADHD

Sexual Disorders and Dysfunction

Eating Disorder

Child/Teen Centered Issues
ACCREDIDATIONS AND ACADEMIC MEMBERSHIPS

American Psychological Association

Florida Youth Challenge Academy Cadet Mentor

Cariad Foundation Board Member

Shannon Miller Foundation Board Member

Structured Psychotherapy for Adolescents

Family Therapy with Co-occurring Disorders

Child/Parent Psychotherapy

Clinical Supervision

Trauma Focused Cognitive-Behavioral Therapy

Exercise and its Effect on Mental Health
Paul wants you to know that you are not alone. We all have problems. Some problems require us to learn to cope and manage, and other problems give us the opportunity to recover, learn, and heal.